Cooperation Partners
Together strong!
Pro Golf Tour media data
Your contact to the decision makers in golf
The Pro Golf Tour offers advertisers the opportunity to actively target users on various Pro Golf Tour media.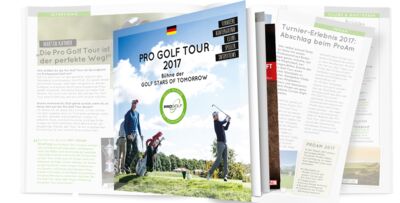 On the one hand, advertising opportunities in the form of banners of various formats are available within the Pro Golf Tour website, which has around 2 million page impressions per year. On the other hand, there is the option to be included in the Pro Golf Tour's "Player Information", which currently reaches over 1,500 recipients - some of them golf professionals, but most of them amateurs who are highly interested in national and international (professional) golf.
If you are interested in any of the above advertising opportunities, contact Oliver Carson at carson@progolftour.de, agencies receive a 15 percent AE commission.
We will be happy to put together further advertising opportunities in cooperation with the Pro Golf Tour.